Welcome to Ambrosia Bears!
Ambrosia Bears is not only a hospital for vintage and antique bears, and modern soft toys. Here, you can also ask Ambrosia to make you a bear or toy of your choice, and you can even adopt a new bear friend made by Ambrosia herself or a vintage bear that has been rescued and restored by her!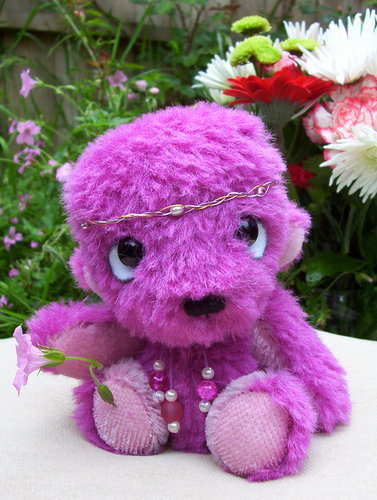 Bear Restoration and Soft Toy Repair
Do you have old teddy bear that you adore and would like to help? Ambrosia would love to give you vintage or antique bear - be he or she a Steiff, Chiltern, Chad Valley or Merrythought - a bit of love and a little make-over. Ambrosia can do the tiniest things, such as add a new eye, or huge things, such as restore a teddy completely. New growlers and pads are no problem; she can also do simple things like re-attach ears, or undertake more serious repairs such as re-jointing a head or arm that has come off! She always does he very best to retain as much of the original teddy's character as possible ; after all, that's why we love them! All restorations are undertaken an sympathetically as possible to remioan in keeping wiht your teddy's personaility and special bear history. Please have a look at the bears in the vintage and soft toy hospitals.
Many of Ambrosia's helper friends are bears that she rescued and then restored. They loved Ambrosia Place so much that they decided to stay and help out! AMbrosia herself has rather a soft spot for Chilterns and has rescued many off the internet to restore. Here is Isabella. She loves living at Ambrosia Place and is never far away from Ambrosia.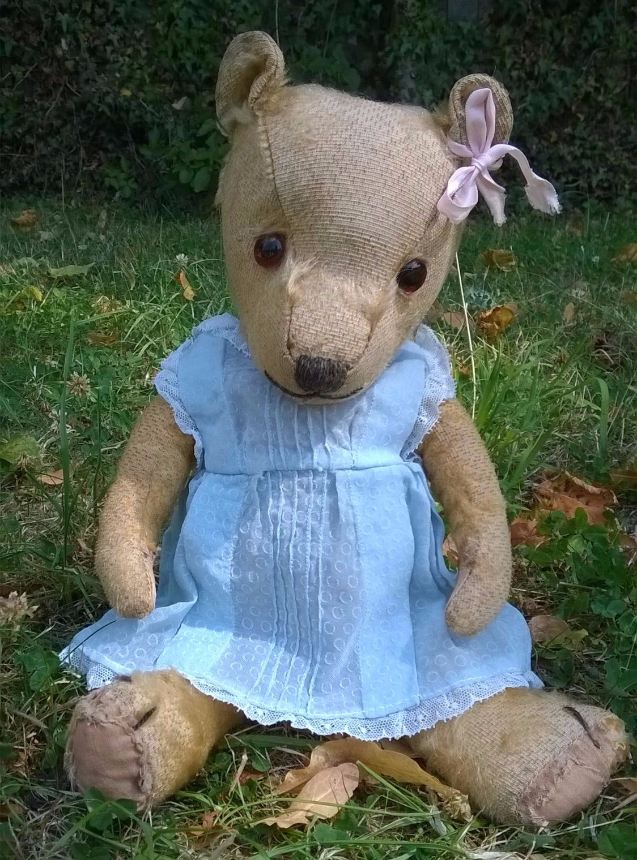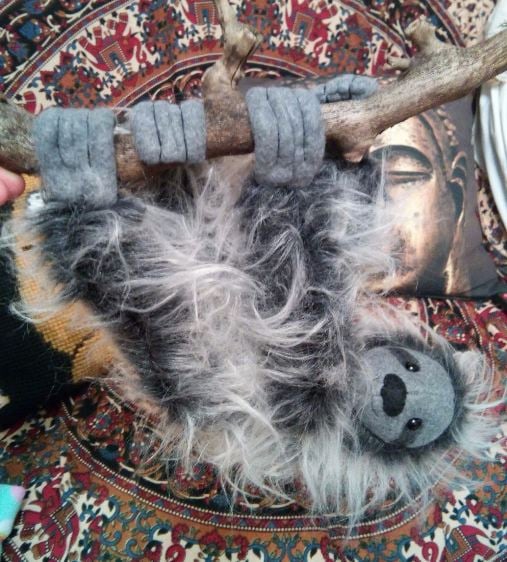 Is there a special person in mind for whom you'd like Ambrosia to create a special bear or toy? Ambrosia has been asked to make many wonderful friends for peole, ranging from traditional teddies, to puppies, to dinosaurs and even a sloth who insisted on being in the photo here! If you've lost an old teddy and would like a replica, or you'd simply like osmehting completely different, then Ambrosia would be more than happy to help as she loves creating things. The only materials that Ambrosia cannot work with for ethical reasons are any and all by-products of animal cruelty. She gets very upset when she's asked to make things from animal skins or fur. Why not have a look at the wonderful creations on the commissions page?
Ambrosia has been making teddy bears - traditional and imaginative - for many years; she has made over 300 in a variety of wonderful colours, sizes and shapes. Some are still at Ambrosia Place as Ambrosia couldn't bear the thought pf parting with them! However, there are still lots of bears who would love a new home, so why now browse the adoption page? The Adoption Gallery is full of friends who have already found their new forever homes and, if you see one here that you like, Ambrosia can make one - only it will be very slightly adapted as all of her creations are one of a kind.
Ambrosia also enjoys rescuing vintage and antique bears, and then restoring them. This process can be very protracted if the rescue needs lots of help, or very simple. The bear opposite was in an absolutely filthy state when AMbrosia rescued her; she is now sparkly clean and one of the helpers in the hospital. However, there are quite a few - Chilterns and Chads especially - at Ambrosia Place who would love to be a little more adventurous and visit new people and places. If you'd like a to offer a piece of teddy history a home, then please consider a bear from Ambrosia Place by clicking on Adopt a Bear.